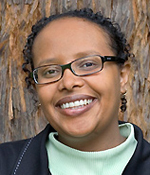 Education:
Ph.D., University of California, Berkeley
M.S., Michigan State University
B.S., University of Asmara (Eritrea)
Abstract:
Professor Berhe's research is broadly focused on soil science and global change science. The main goal of her research is to understand the effect of changing environmental conditions on vital soil processes, most importantly the cycling and fate of essential elements in the critical zone. She studies soil processes in systems experiencing natural and/or anthropogenic perturbation in order to understand fundamental principles governed by geomorphology, and contemporary modifications introduced by changes in land use and climate.
Professor Berhe's general research themes are:
· Effect of climate changes (specifically rainfall and temperature) on storage and stabilization of soil organic matter and cation nutrient budgets
· Nano-scale biogeochemistry of iron oxides, especially how the size and concentration of oxides in soil control stabilization and destabilization of organic matter
· Erosion and terrestrial carbon sequestration, specifically temporal evolution of the erosion-induced terrestrial carbon sink and reconstruction of environmental history from sediments
· Political ecology of land degradation and ownership, particularly the contribution of armed conflicts to land degradation and ways people relate to their environment