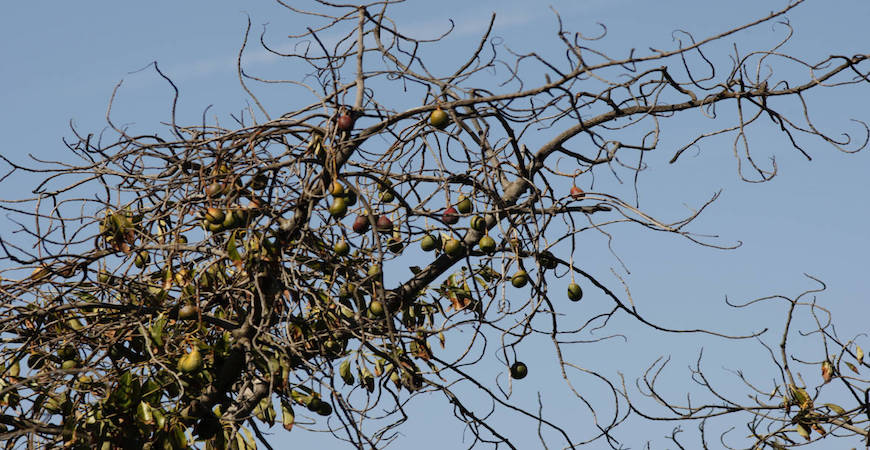 California currently provides two-thirds of the country's fruits and nuts, but according to a new study published Tuesday, by the end of the century California's climate will no longer be able to support the state's major crops, including orchards.
The report, published in "Agronomy," warns that the increased rate and scale of climate change is "beyond the realm of experience" for the agricultural community, and unless farmers take urgent measures, the consequences could threaten national food security.
"For California, as an agricultural leader for various commodities, impacts on agricultural production due to climate change would not only translate into national food security issues but also economic impacts that could disrupt state and national commodity systems," the report warns.
The study, led by researchers from the University of California,Merced and Davis campuses, looked at past and current trends in California's climate and examined what impact record low levels of snowpack , and extreme events such as drought will have on crop yields over time.
Climate scientist and author Peter Gleick called it the most important report he's seen on the impact of climate change on California agriculture.
This may be the most important article on this subject I've ever seen. And I've seen them all. #Climate and California agriculture. https://t.co/9ZV4txgON4

— Peter Gleick (@PeterGleick) February 27, 2018
California produces more than a third of the nation's vegetables and two-thirds of its fruits and nuts. Irrigated crops account for nearly 90 percent of the harvested crops in the state. The total value of the state's fruits and nuts in 2015 was $18.1 billion, nearly 67 percent of the country's total value, according to a report issued by the California Department of Food and Agriculure .
The same report notes that California produces between 80 and 95 percent of country's apricots, grapes, lemons, mandarins, nectarines, plums, and strawberries. It also supplies more than half of the country's avocados and raspberries.
Historically low precipitation rates and diminishing snowpack levels could severely disrupt those industries.
The Sierra Nevada snowpack , a primary source of the state's water supply, could see a 65 percent loss by the end of the century because of warmer temperatures, according to the report.
Global crop production will also have to double by 2050 to meet the demand of the world's growing population, according to an estimate from the United Nations . But climate change could threaten eight out of the 20 major crops grown in California — almonds, wine grapes, table grapes, strawberries, hay, walnuts, freestone peaches, and cherries.
The authors of the report say they hope their findings will provide researchers and policymakers guidance on how to prepare for upcoming weather changes.