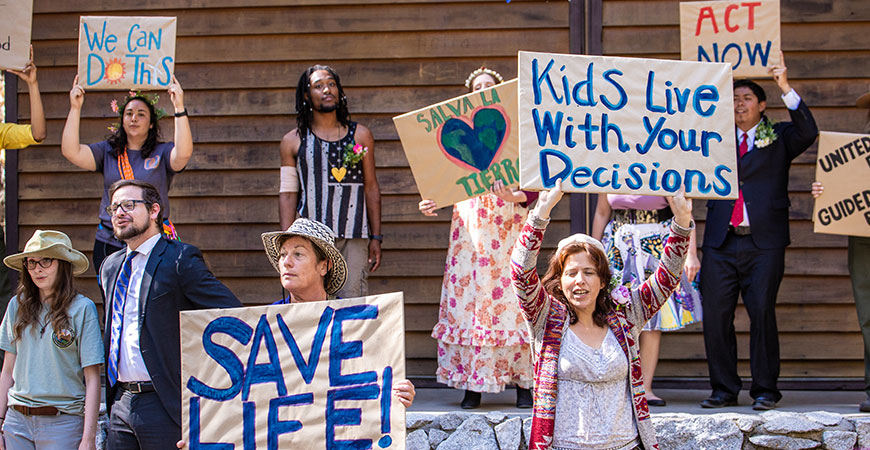 Compelling storytelling is vital to ensuring the action needed to secure a habitable planet for future generations, according to an increasing amount of research.
UC Merced is recruiting students now to become the next environmental storytellers.
Students who are interested in creatively conveying the urgency of environmental issues can make that mission the focus of their studies when the new environmental humanities (EH) major begins at UC Merced in fall 2024.
"What do students have to say about the environment and how can they contribute to the global conversation and the huge global crisis we're facing?" Assistant Teaching Professor Bristin Jones asked. "We need all players on board. It's not enough to just have the engineers and the scientists. We need great communicators to help solve the planet's most pressing challenges."
Graduates of this career-oriented program will understand environmental science andtell persuasive stories about the research and data that urge action.
The EH program, the first of its kind in the University of California system, will equip students with a solid understanding of ecological principles and the science of climate change and biodiversity loss, a comprehension of the policies and social structures that contribute to and alleviate environmental injustices, and the writing and speaking skills needed to effectively communicate about environmental challenges and solutions, said Jones and Professor Katherine Brokaw, both of whom spearheaded development of the new program.
The program will train students to work as rangers in national parks and other protected areas; researchers and public relations managers for environmental nonprofits and federal agencies such as the Environmental Protection Agency; business entrepreneurs and managers; environmental attorneys; and educators, environmental journalists, writers and artists.
"Environmental humanities is an exciting field that has been around a long time, but not a lot of people have heard of it," Jones said. "In part, that's because over the centuries, it has taken different names. But we all know that writers and artists have been interested in the natural world and other species since the beginning of humanity."
Given the program's interdisciplinary strengths in critical thinking and science communication, EH will be an attractive double major or minor for students considering careers in science, technology, engineering and mathematics (STEM) fields, law and the public sector, they said. Students enrolled in the EH program will take classes in subjects such as environmental systems science, environmental engineering and biology to learn about the science behind ecological problems and potential solutions. They will also take classes in the social sciences and philosophy to consider the ethical implications of environmental injustices.
"We know that the people who are most vulnerable are the most affected, although they are the ones who are least responsible," Brokaw said. "We need people to tell the stories of what's going on and what can be done about it."
EH majors and minors will read literature by environmental writers such as Rachel Carson, whose book "Silent Spring" warned of the dangers from the misuse of chemical pesticides and helped kick off the contemporary environmental movement; Sandra Steingraber, an American biologist, poet and cancer survivor who has written about the environmental links to cancer and the public health danger of fracking; and Afro-futurist writer Octavia Butler, whose science fiction novels imagine near-future ecological destruction and resilient rebuilding of community.
After hearing from experts in environmental fields and studying a wide variety of works ranging from novels and documentaries to songs and TikTok videos, students will complete creative projects of their own.
Such projects allow students to examine the different ways environmental stories can be told through different media such as film, podcasts, fine arts, photography, music and playwriting. They will have several chances to create their own pieces of environmental writing and art, such as podcasts, comics and plays, to collaborate on EH projects, and to receive training for environmentally-focused careers. These include opportunities unique to UC Merced, such as taking part in the campus's annual Shakespeare in Yosemite production, a project led by Brokaw that performs ecologically adapted plays in Yosemite National Park.
EH majors may also be interested in joining the Yosemite Leadership Program, a two-year experience that leverages UC Merced's proximity to and longtime partnership with the national park. The program provides leadership training and summer internships in Yosemite and gives its graduates the ability to be hired into the National Park Service directly out of college, an opportunity not available at any other campus in the nation.
In fact, Ranger Scott Gediman, public affairs officer for Yosemite National Park, is planning to guest lecture in EH courses and hopes some of the major's graduates join him and his colleagues in Yosemite.
"The environmental humanities program at UC Merced offers exactly what I wish I'd had as a student: grounding in the issues facing our planet and protected areas, and the skills needed to tell the story of what we need to do to safeguard our precious planet," he said. "The EH major will provide the perfect pathway to jobs in Yosemite National Park and other national parks and environmental organizations. Yosemite looks forward to hiring graduates of this program, where their skills will be integral to realizing our mission."
In addition to drawing on UC Merced's unique partnership with Yosemite National Park, the program will leverage opportunities provided by several campus entities such as the UC Center for Climate Justice, the UC Merced Natural Reserve System, the Sierra Nevada Research Institute and the National Parks Institute.