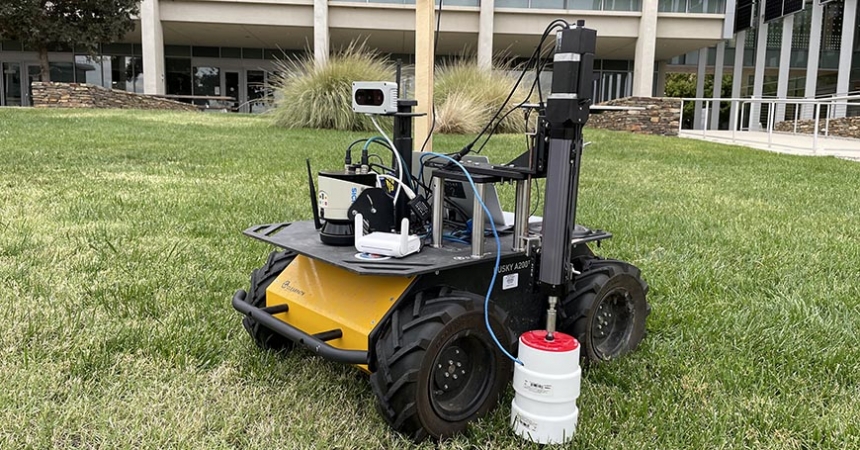 A new $2M National Science Foundation Collaborative grant unites investigators from UC Merced, UC Riverside, and UC Davis in "Elevating Farm Worker-Robot Collaborations in Agri-Food Systems." Principal Investigator, Sierra Nevada Research Institute Faculty Director, and Civil and Environmental Engineering Professor Thomas Harmon and Co-Principal Investigator and Computer Science and Engineering Professor Stefano Carpin have been working with a team of interdisciplinary researchers through a related effort (LACA, Labor and Automation in California Agriculture), to bolster food system resilience and human-centered agriculture technology to transform the workforce and environment of the future.
This new award from the National Science Foundation's Future of Work and Human-Technology Frontier (FW-HTF) program will enable LACA investigators to take a deeper dive into agricultural robot collaborations with farm workers. The project includes educational partnerships with the College of Marin Organic Farm and Rhizosystems LLC and mentorship opportunities for women in agricultural technology coordinated by Amy Wu, director of the nonprofit organization From Farms to Incubators. Lastly, the team is partnering with Western Growers Association (WGA), which represents local and regional (California, Arizona, Mexico, and Colorado) family growers of fresh produce that fulfill over half of the US's needs in fresh fruits, vegetables, and tree nuts.
The research proposes a synergistic approach that transcends engineering, computer science, social science, environmental science and engineering, and crop production management. The introduction of precision agriculture, including a broad range of technological advancements applied to improve agricultural production and management outcomes (e.g., robotics, artificial intelligence, automated and autonomous systems, smart and connected sensors, and data analytics), can mitigate some of these challenges to sustain and/or improve current productivity while using fewer inputs (e.g., water, workers). Understandably, introduction of these precision agriculture approaches is clouding the outlook for the agricultural workforce. The overarching goal of this project is to shape the future farm workplace in which human-aware agricultural robots operate in a seamless partnership with farmworkers to improve future tree-crop harvesting outcomes while improving the job experience and enhancing the environmental sustainability of food production. This goal requires a holistic rethinking of agricultural robotics that are efficient both in their own operation, as well as in their cooperation with farmworkers.
Funding for this project is the latest in a series of successful transformative and convergent research proposals from SNRI Faculty. Over the past three months alone, SNRI investigators have garnered more than $4.8M in research grants to tackle complex socio-environmental problems.
San Joaquin Valley Climate Resilience Center: Informing Equitable Climate Outcomes through Collaborative and Interdisciplinary Science. US Department of Energy. Lead PI Samuel Markolf.
Investigating the overlooked longwave impacts of mineral dust on warm boundary-layer cloud. US Department of Energy. Lead PI Adeyemi Adebiyi (Newsroom Article).
Collaborative Research: Effect of surface-fuel attributes and forest-thinning patterns on wildfire, carbon storage, and advancing forest restoration. National Science Foundation. Lead PI Jeanette Cobian.
Increasing publicly available tools for climate-smart seed sourcing and forest restoration. University of California Office of the President. Lead PI Emily Moran (Newsroom article).
RAPID: Quantifying the response of Toxic methane production to biogeochemical changes in aquatic ecosystems: record Sierra Nevada snowmelt as a natural experiment. National Science Foundation. Lead PI Michael Beman.
NASA ACRES: A Climate Resilient Ecosystem Approach to Strengthening US Agriculture. Subaward through University of Maryland. PI Teamrat Ghezzehei.
Continuing to scale and apply hybrid approaches for compound flood risk assessments: Directly incorporating climate model output into US West Coast resilience projects. Subaward through Oregon State University. PI John Abatzoglou.
Agroclimate Research Ventura County. UC Agriculture and Natural Resources. PI Tapan Pathak.
Additional awards to SNRI faculty through the Spring 2023 UC Merced Climate Action Seed Funds (Newsroom article).