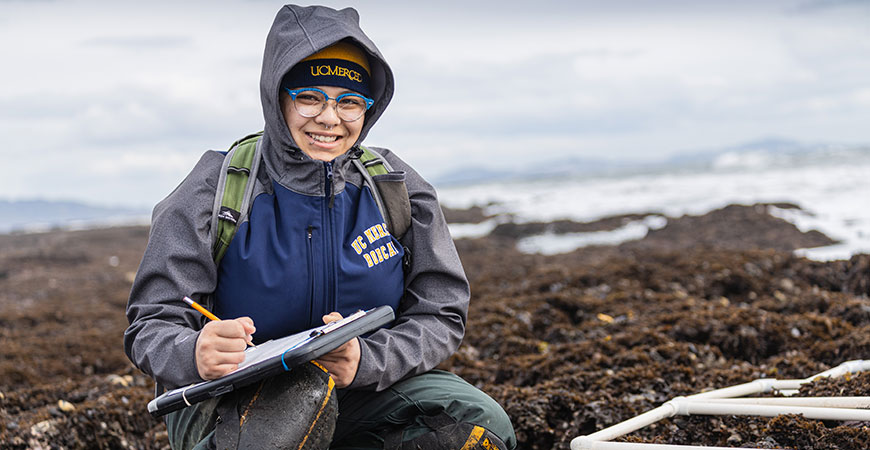 It's time for the campus and the community to celebrate UC Merced's high-level research during Research Week, March 6 through 10.
The annual research showcase, hosted by the Office of Research and Economic Development, kicks off with a Health Sciences Research Institute (HSRI) event titled "Climate, Environment and Health: Impacting the San Joaquin Valley and Beyond."
Featured speakers include professors Asa Bradman, Sandie Ha, Jennifer Hahn-Holbrook and Katrina Hoyer exploring health research that affects the Valley, the nation and the world, followed by a discussion of the future of health sciences research at UC Merced.
The event takes place from 10 a.m. to 2 p.m. Monday, March 6, in Room 105 of the campus's Conference Center. It is free and open to everyone, and students and community members are especially encouraged to attend.
The Sierra Nevada Research Institute (SNRI) is holding two big events during the week, both of which are geared toward all audiences.
The first is a free screening of the documentary "California's Watershed: Healing," at 6 p.m. Tuesday, March 7.
Doors open at 5:30 p.m. and there will be refreshments available. The film starts at 6 p.m. and the question-and-answer session with forest and watershed expert panelists and film director and executive producer Jim Thebaut will follow from 7-7:30 p.m. in the Conference Center.
The film — a sequel to the 2018 documentary, "Beyond the Brink" — presents immediate, viable and implementable solutions for the urgent problems facing California's forested watersheds. This new film explores what is needed to meet the threats of climate change, wildfires and inaction by public agencies, as well as implications for California's forests, watersheds, state economy, food and water security and national security, according to the film's producers.
Registration for this event is recommended and additional details, including the film trailer and directions, can be found online.
The second SNRI event is a research symposium entitled "Climate Action Research @ UC Merced." Everyone is welcome to come learn more about the exciting and relevant environmental research being conducted on campus and in the surrounding area at the event from 10 a.m. to noon, Thursday, March 9, in the Conference Center.
The symposium is geared toward science and lay audiences alike, and features lightning talks by SNRI researchers and students displaying the full range of science being used to tackle environmental challenges. Attendees can vote for their favorite talks, and winners will receive travel funding to support graduate student and early career researchers.
Visit SNRI online or contact the institute by email for more event information.
Current and incoming students can learn about research opportunities at a series of faculty flash talks scheduled for 3:30-5 p.m., Monday, March 6, in rooms 105 and 110 of the Conference Center.
People are welcome to take tours of campus research facilities, the experimental smart farm site and the Merced Vernal Pools and Grassland Reserve on Tuesday, March 7.
Students, faculty, staff and the public are welcome to join. Tours of the reserve (RSVP online) depart at 9 and 10:30 a.m., including a two-hour tour for the public; tours of the farm site depart at the same times (register online). Get a look at nine different research facilities during tours departing every 20 minutes or 40 minutes, depending on tour length, starting at 1 p.m. Meet at the tables set up near the canal bridge along Engineering Walk. Sign-up for tours begins at 11 a.m. and they will fill on a first-come, first-served basis. If you have a group of 5 or more, please contact David Gravano for group reservations at.
The Student Research Week Showcase takes place from 1-4 p.m. Wednesday, March 8, in the Dr. Vikram and Priya Lakireddy Grand Ballroom in the Conference Center.
All UC Merced students have been invited to present the research they have conducted by displaying posters and giving talks to the broader campus and local community at this event. In addition to campus presenters, the Merced County Office of Education is collaborating to host the winners from the Merced County STEM Fair before those students go on to the California Science & Engineering Fair. Everyone is invited to view and listen to presentations from UC Merced and from local Merced County schools.
The public events wrap up with the annual ReCCES Community Engaged Research Reception from 5:30-6:30 p.m., Thursday, March 9, at the Multicultural Arts Center in downtown Merced.
Those attending will learn about current research projects conducted in collaboration with community members, and how to get involved in future projects to connect research to community goals. UC Merced faculty and students will discuss their projects from across the Central Valley that directly involve community members.
The keynote speakers are Professor Dalia Magaña, with graduate students Lorraine Ramos, Ekta Kandhway, Joshua Semerjian, and Healthy House representatives Candice Adam-Medefind and Belle Vallador. Their topic is "Not a Cancer 'fight:' Centering Latinas' Metaphors in Breast Cancer Narratives through Community Collaboration."
The presentation focuses on a case study stemming from a community-based collaboration with Healthy House, a nonprofit organization in Merced. Through the collaboration, researchers interviewed and collected video testimonies of Latinas in Merced County who are breast cancer survivors to explore how their cultural beliefs influence how the disease is represented from diagnosis to treatment and outcome.
To get more information about this event e-mail the Undergraduate Research Opportunities Center (UROC).
Learn more about Research Week and get a full list of events online.