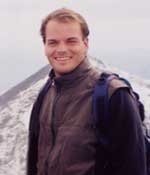 Education:
PhD, 2005 – University of Arizona
M.S., 2001 – University of Arizona
B.S., 1997 – Iowa State University
Abstract:
Dr. Burkhart's research is principally focused on understanding the dynamics driving climate variability in the Arctic and the response of climate to atmospheric forcing. Using a combination of shallow ice cores, atmospheric measurements from key locations, and transport modeling this research attempts to unravel the linkages between changes in the chemical environment in the Arctic and changes in the climate system.
Currently, Dr. Burkhart is the lead contact for the Greenland Environmental Observatory (GEOSummit), and is a visiting researcher at the Norwegian Institute for Air Research (NILU) where he is developing a collaborative program to build on the existing Arctic Monitoring and Assessment Program (AMAP) to create a global contaminants observatory network (ATMOPOL).